Deep Hearing at
MWC Barcelona 2023
Feb 27 ~ Mar 2, 2023, Barcelona, Spain
We're incredibly proud to announce that our company has been recognized as one of the top 50 startups at MWC Barcelona 2023 by 4YFN. We believe that our AI-based noise reduction solution can revolutionize the way businesses communicate, collaborate, and ultimately, achieve their goals. Our team is dedicated to delivering the best possible experience to our customers and we look forward to working with you to unlock the full potential of our technology.
| | |
| --- | --- |
| Schedule | Time |
| 4YFN | Hall 8.1, Fira Gran Via after 17:15 on Feb.28. |
| KOTRA | 7A62-24, Hall 7, Fira Gran Via after 12:00 on Mar.1. |
1. Noise Reduction SDK for Mobile
It provides an on-device library to eliminate noise and howling from Android phones, PTTs, video conferencing services, messenger services, and media platforms.
It uses advanced deep learning algorithms to analyze and cancel out background noise in real-time, providing crystal clear audio in any environment.
Whether you're in a crowded room, on a noisy street, or on a busy train, Ensures that you can always deliver a clear voice without any distractions.
The dual microphone is a highly innovative product that takes audio recording to the next level. It uses a stereo microphone system to detect sound according to direction, providing crystal-clear sound quality and improved audio clarity.
The directional nature of the dual microphone makes it possible to focus on specific sources of sound, such as a person speaking on stage, while reducing background noise and other distracting sounds. This results in recordings that are more polished and professional-sounding, making it easier for listeners to concentrate on the content being delivered.
the dual microphone represents a major step forward in audio recording technology, providing users with the ability to capture audio that is rich, clear, and directional. Whether you're a filmmaker, podcast producer, or just someone who wants to capture high-quality audio, the dual microphone is an excellent choice.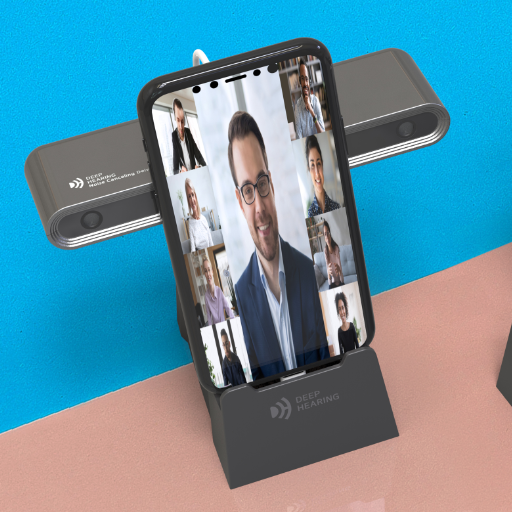 An ideal choice for a wide range of applications, including film and video production, live events, podcasting, and more.
Desktop App uses advanced noise-cancellation technology to filter out unwanted background noise and improve the clarity of audio recordings or live calls. This is achieved through a sophisticated algorithm that is designed to detect and remove ambient noise without affecting the human voice.
The performance of Desktop App is impressive, with rapid processing speed and low latency. This ensures that noise cancellation is carried out in real-time, without any noticeable delay or lag in the audio feed.
In terms of specific performance metrics, Our Desktop App offers low processing overhead, resulting in minimal impact on system resources. Additionally, Desktop App has a high signal-to-noise ratio, which means that the signal (i.e., the human voice) is kept clear and strong, while the noise is removed in a way that is seamless and unobtrusive.
Desktop App is a powerful tool for anyone who needs to communicate or record audio in noisy environments.
Whether you're a professional working in a loud office or a remote worker dealing with household noise, it can help you hear and be heard with greater clarity and precision.